Hospice Eligibility Requirements
Learn the hospice eligibility requirements and find out if you or a loved one qualifies for SUPERB hospice services. We provide compassionate care to those who need it most.
How to Qualify for Hospice Care?
To begin hospice care, many conditions must be met to become eligible. As outlined by the U.S Centers for Medicare & Medicaid Services, individuals must meet certain criteria, such as having symptoms or an illness that is expected to progress further soon, to qualify for this invaluable service offered through palliative medicine.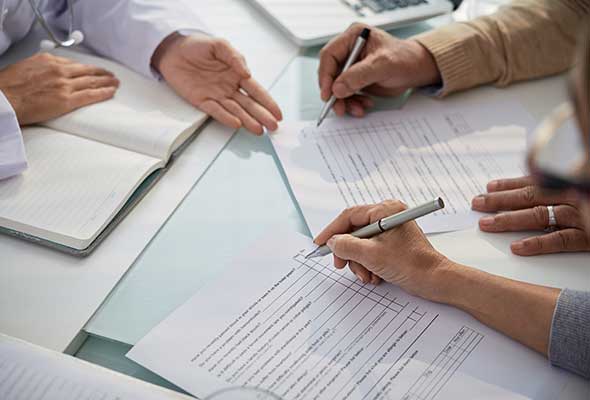 Guidelines for Hospice Eligibility Requirements
A variety of criteria may determine hospice eligibility, including the:
Diagnosis of a life-limiting condition with an expected prognosis to live six months or less if left untreated.
Frequent hospitalizations over the past sixth months.
Progressive weight loss (even when considering edema in individuals).
Increased weakness and fatigue, excessive sleepiness, cognitive status changes, and mental function deterioration.
Additionally, Hospice care might also involve compromised ADLs like:
Eating meals, bathing oneself, dressing/undressing, and toileting needs such as transferring from one area to another.
Walking alone, and maintaining continence, among other medical factors.
Recurrent infections leading to skin breakdown can indicate deteriorating health conditions that warrant hospice services for those afflicted.
Disease-specific hospice eligibility criteria
Knowing whether you or a loved one qualifies for hospice care can be overwhelming. Fortunately, there are disease-specific guidelines based on the patient's primary diagnosis to help navigate eligibility requirements. Here are You can access the criteria by choosing from our list of diseases:
AIDS
Cancer
Cerebral
Vascular Accident (CVA)
Stroke Congestive Heart Failure
Cardiopulmonary Disease COPD
Cardiopulmonary Disease Dementia
Liver Disease Neurological Conditions (non-Alzheimer's dementia, Parkinson's disease
Multiple Sclerosis ALS and
Huntington's disease), and
Renal Disease.
Hospice care could be a critical consideration for individuals with a serious illness. It is a specialized type of medical care intended to improve the quality of life for individuals with life-limiting conditions.
Hospice care could include access to medical care, pain management, counseling, social services support, and spiritual care.
It is important to remember that hospice care is not about giving up but making the most of the time that one has left. Please check the additional information you need to know about hospice.
How To Determine Hospice Eligibility?
If a physician expects that a patient will live six months or less, factoring in how the disease typically progresses, that patient may be considered hospice eligible. Hospice eligibility is determined based on the severity of the patient's primary diagnosis (the diagnosis that contributes most to terminality).
Additionally, the patient's secondary or comorbid conditions and their nutritional and functional status are also considered. But sometimes, the primary diagnosis alone is sufficient to qualify a patient for hospice care.
Are you or a loved one in need of hospice care?
Receive exceptional care from Superb Hospice Today!
Superb Hospice aims to provide our patients with the finest quality of life. We offer compassionate services that help them make the most of their remaining time in Los Angeles, CA.
Our Articles About Hospice