Hospice Care Long Beach, CA
Hospice Care in Long Beach, CA
Superb Hospice provides the highest hospice care services for inpatient and outpatient clients in Long Beach, CA. We offer top-quality care for those in need. Contact us for a free case review Today!
Hospice care, also known as comfort care, is medical care that aims to alleviate pain and suffering in individuals with life-limiting illnesses. Hospice healthcare providers use medication and therapy services to enhance patients' quality of life with compassionate care. While it does not aim to cure the illness, hospice prioritizes comfort rather than the patient's lifespan.
Superb Hospice offers exceptional care and comfort to patients and families in the Long Beach, CA, area. We offer personalized and comprehensive hospice care services catering to each patient's needs. Our team of highly trained professionals provides medical attention, emotional support, and grief counseling to help patients and their loved ones navigate the end-of-life journey.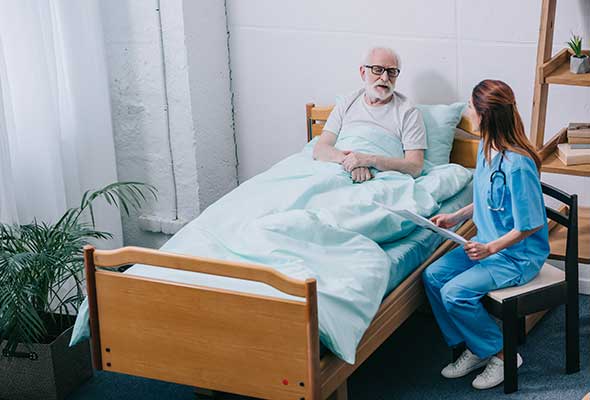 Outpatient &. Inpatient Hospice Care in Long Beach, CA
Comprehensive Hospice Services
Superb Hospice is dedicated to providing high-quality care and comfort to individuals during their end-of-life journey. Our hospice care services in Long Beach, CA are comprehensive, including medical, emotional, spiritual, and grief support to meet the individual needs of patients and their families.
Medicare entirely covers our hospice care services and routine visits, so you can rest assured that you won't have to pay anything out of pocket. With this assurance, you can instead focus on what matters most: cherishing every moment with your loved ones and creating lasting memories together!
Our devoted team provides compassionate end-of-life care services in Long Beach, CA. We offer symptom management, comfort care, and unwavering support throughout the entire journey, ensuring peace and comfort for those in our care.
Quality Care for Patients
Superb Hospice provides unparalleled hospice care services to both inpatients and outpatients, available round the clock in Long Beach, California. Our empathetic team is devoted to delivering top-notch care to those in need.
Are you or a loved one in need of hospice care?
Receive exceptional care from Superb Hospice Today!
At Superb Hospice, we are committed to enhancing the quality of life of our patients in Long Beach, CA. Our compassionate support services help patients cherish their remaining time, ensuring that their wishes are honored and they experience peace, comfort, and dignity in their final days. Our team works closely with each patient to provide the utmost care and attention they deserve. You can rest assured that your loved ones will receive exceptional care from us.
Hospice Career Opportunities
Our hospice agency is committed to providing compassionate care, support, education, and advocacy for individuals and their families enduring challenging times. By joining us as a hospice volunteer or pursuing a career in hospice care, you can make a profound impact and help us create a positive difference. We welcome all who are willing to lend a helping hand to those in need.
At Superb Hospice, we are highly skilled in providing end-of-life care and dedicated to assisting families in supporting their loved ones throughout this challenging journey. Our premium hospice services, both inpatient and outpatient, are readily available to patients in Long Beach, CA, and its surrounding areas.
Hospice is a service that focuses on providing comfort and peace to individuals nearing the end of their lives. For additional information and resources that can help you and your loved ones, please don't hesitate to reach out. We're here to help you in any way we can.