Learn more about what is hospice and find the answers to the most common questions about hospice in this article. If you have more questions, contact us for a free case review.
The Basics of Hospice Care
Hospice care is a type of medical service provided to those who are terminally ill and have six months or less to live. It is not a place but rather a philosophy of care that emphasizes comfort and quality of life for patients at end-of-life.
While hospice care may be difficult for families, it can provide much-needed peace and comfort for patients in their final days. Let's look at what hospice care is and the services it offers.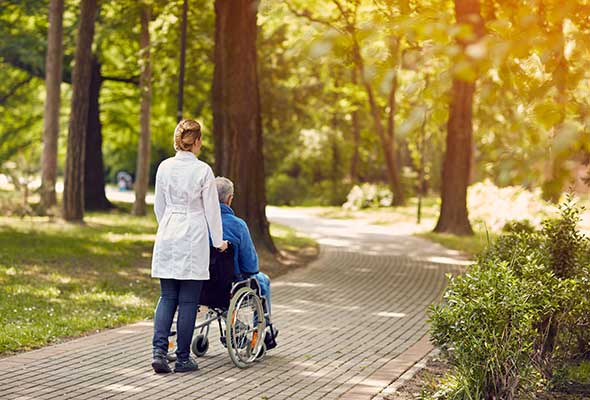 Everything to Know About Hospice
Hospice care focuses on providing comfort and peace to those facing terminal illnesses. It helps to address pain management as well as emotional and spiritual support for both the patient and family members.
Hospice teams consist of doctors, nurses, social workers, counselors, chaplains, home health aides, and volunteers who work together to provide comprehensive care for patients in their homes or other settings such as hospitals or nursing homes.
Hospice teams provide medical services such as pain management, symptom control, hospice medications, medical equipment, and supplies. 
They also offer emotional support through counseling sessions with family members or individual counseling sessions with the patient; spiritual support through visits from chaplains or spiritual advisors; dietary advice; practical help like bathing assistance or homemaking tasks; respite care for family members; bereavement services after the death of the patient; and volunteer support through activities like reading books aloud or running errands.
What are the Four Levels of Hospice Care?
Routine home care is the most common level of care in hospice. The patient is generally stable, and they are adequately controlled in the home
General inpatient care is a crisis level for the short-term management of out-of-control patient pain. It is usually provided outside the home at a medical facility like a hospital or skilled nursing facility.
Continuous home care is a crisis level of care for short-term management of out-of-control patient pain and, most of the time, is provided in the home.
Respite care is temporary care provided in a nursing home, hospice inpatient facility, or hospital so that a family member or friend who's the patient's caregiver can take some time off.
24/7 Access to Quality Nursing Care
Schedule Your A Free Initial Consultation Today
Gain insight into what is hospice care and receive answers to all your hospice-related queries at Superb Hospice. Our team is equipped to review yours or your loved one's case and provide the best care possible.
Top 8 Most Common Questions About Hospice
Are you curious about hospice care? We've got you covered with the answers to your burning questions! Take a peek at our Hospice FAQ page for even more information.
It is a form of care designed to offer comfort and support to patients approaching the end of their lives. This compassionate approach centers on easing the individual's pain and discomfort while providing emotional, spiritual, and social support to the patient and their family.
2. What services does hospice provide?
At the hospice, end-of-life patients can receive care in their homes, in hospitals, or in specialized facilities. A team of healthcare professionals collaborates to develop a personalized care plan that meets each patient's unique needs. With an emphasis on patient comfort and quality of life, hospice enables individuals to spend their final moments with dignity and peace surrounded by loved ones.
3. Who is eligible for hospice services?
Individuals eligible for hospice services include those with a terminal illness or a life expectancy of six months or less, those experiencing a significant decline in health despite medical treatment, and those who have opted for comfort care rather than curative treatment.
4. What are the benefits of hospice care?
By providing specialized medical and emotional support, hospice care allows patients to remain comfortable in their homes while surrounded by loved ones. It also offers a range of assistance, from pain management to spiritual guidance, ensuring patients receive holistic care.
5. How do I choose a hospice provider?
Looking for the perfect hospice provider in Los Angeles? Look no further than Superb Hospice – the top-rated hospice agency in the area. With a team of compassionate caregivers, state-of-the-art facilities, and an unwavering commitment to providing the best possible care for your loved ones, Superb Hospice sets the standard for excellence in end-of-life care.
6. How do I pay for hospice care?
Hospice care services are funded by various sources, including Medicare, Medicaid, commercial insurance, and private payments by patients and their families.
7. How do I know if hospice is the right choice for my loved one?
As you navigate through the difficult journey of caring for a loved one facing a terminal illness, there may come the point when you wonder if hospice care is the right decision. Whether to transition from curative treatment to palliative care is significant, and it's understandable to have concerns and questions.
8. What should I expect from hospice care?
Asking about hospice care can be a difficult and emotional decision. It involves a team of healthcare professionals providing medical, emotional, and spiritual support to the patient and their family. Hospice care can be provided in the patient's home, a hospice facility, or a hospital. The ultimate goal of hospice care is to ensure patients are comfortable and at peace during their final days. Understandable to have concerns and questions.
24/7 Access to Quality Care
Get In Touch With One Of Our Knowledgeable Advisors
At this crucial juncture of life, we offer our unwavering support in easing the journey for you or your dear one. Our team specializes in providing personalized care plans tailored to meet individual needs during the end-of-life process. We take pride in our commitment to providing the best care possible to make the final chapter of life as comfortable and peaceful as possible.
What is a Palliative Care?
Palliative Care is a specialized approach to healthcare that focuses on improving the quality of life for patients dealing with serious or chronic illnesses. It is an interdisciplinary field, encompassing both medical and emotional healing aspects.
The goal is not to cure the illness but to alleviate the symptoms and provide comfort and support to patients and their families. Palliative Care considers the person as a whole, seeking to enhance their physical, emotional, and spiritual well-being.
This care includes various interventions, such as pain management, spiritual counseling, and grief support, Palliative Care aims to provide compassionate, comprehensive care for those dealing with serious illnesses.